Courses and Classes at
the Pensioner's Club -
20,
Hehadar st.
Details and registration: Director - Ofra Ashkenazi
Maya Cohen
Courses
Classes
All the classes are led by teachers.
Painting
Mondays from 16:00 to 18:30
Fee: 60 Shekels per month

Bridge
Sundays and Wednesdays from 9:30 to 13:00
Fee: 130
Shekels per month
for twice a week;
80
Shekels
per month for once a week

Bridge
course for
beginners
Sundays from 10:00 to 12:00
Fee: 120
Shekels
per month
English for advanced
The Class focuses on conversation, grammar and reading.
Tuesdays from 10:30 to 11:30
Gymnastics on chairs
Sundays and Tuesdays from 13:00 to 13:45

The Good Movie Club
Mondays, every two weeks
Fee: 15
Shekels
per movie, including coffee and cake
Social Clubs at t
he Pensioner's Club -
20, Hehadar st.
Director - Ofra Ashkenazi


Club for civilian employees for Zahal and the community
Rummikub, birthday parties, lectures
Sundays, Tuesdays and Thursdays at 14:00
Club of
Spanish and Ladino speaking - Regional
NOS REUNIMOS TODOS LOS SABADOS
Every Saturday night
Club for
police pensioners
Wednesdays between 15:45 - 19:30

Club for the Israel Aerospace Industries pensioners
Tuesdays at 17:30
Social Clubs at the
Day Center, O
rnstein House - 13, Agnon st.
Social Club for
Holocaust survivors
In cooperation with the
Welfare
for the Retired
Unit
in the Municipality, the Ministry of Social Affairs
and Social Services and the ALEH Organization
Gymnastics for the aged 60+
Sundays from 16:30 to 17:00
Club "Hope"
Gymnastics, table games, conversation with a rabbi, birthday celebrations
Mondays, Tuesdays and Wednesdays from 16:00 to 18:00

Club "Bnei Brit"
First Wednesday of the month

Intergenerational theater group - Life stories
Sundays from 16:00 to 18:00
Social Clubs at "Nashelsk" club - 9, Wingate st.
Health Gymnastics Club
Mondays from 17:00 to 18:00

Morning Club
Tai Chi sessions, crafts, lectures, singing, gymnastics and more
Mondays at 10:00

"Friendship"
Club
- Supportive community
Lectures, holidays
and events
mentioning, gymnastics
Wednesdays at 17:00

Social Club for Religious Women
Lectures, social games, folk dances, birthday celebrations, parties, conversations on religious topics
Sundays from 10:30 to 12:30
Woman's Day - March 2018
For seeing the pictures, click on a picture and then on the left or the right arrow
2017 Hanukkah Party at the Nashelsk Club
For seeing the pictures, click on a picture and then on the left or the right arrow
2017 Hanukkah Party at Beit Chabad
For seeing the pictures, click on a picture and then on the left or the right arrow
Joined Activity of the ALEH Organization and the Or Yehuda Mediterranian Towers - June 2017
For seeing the pictures, click on a picture and then on the left or the right arrow
Activity with Children at the Nashelsk Club
For seeing the pictures, click on a picture and then on the left or the right arrow
Pessach 2017 Greetings at the Social Club together with Volunteers
For seeing the pictures, click on a picture and then on the left or the right arrow
Please notice that there are 3 pictures pages
Pessach 2017 Greetings at the Religious Women Social Club
For seeing the pictures, click on a picture and then on the left or the right arrow
Opening of a Club for the Retired from the Intelligence Corps
For seeing the pictures, click on a picture and then on the left or the right arrow
2016 Hanukkah Party at the Religious Women Social Club
For seeing the pictures, click on a picture and then on the left or the right arrow
Workshop before 2016 Hanukkah at the Religious Women Social Club
For seeing the pictures, click on a picture and then on the left or the right arrow
Yemenite Dance
at the Religious Women Social Club
For seeing the pictures, click on a picture and then on the left or the right arrow
2016 Sukkot at the Housing for Holocaust Survivors
For seeing the pictures, click on a picture and then on the left or the right arrow
Please notice that there are 2 pictures pages
2016 Rosh Hashana Party at the Tikva Club
For seeing the pictures, click on a picture and then on the left or the right arrow
2016 Rosh Hashana Greetings at the Religious Women Social Club
For seeing the pictures, click on a picture and then on the left or the right arrow
July 2016 Party at the Religious Women Social Club
For seeing the pictures, click on a picture and then on the left or the right arrow
2016 Shavuot Party at the Tikva Club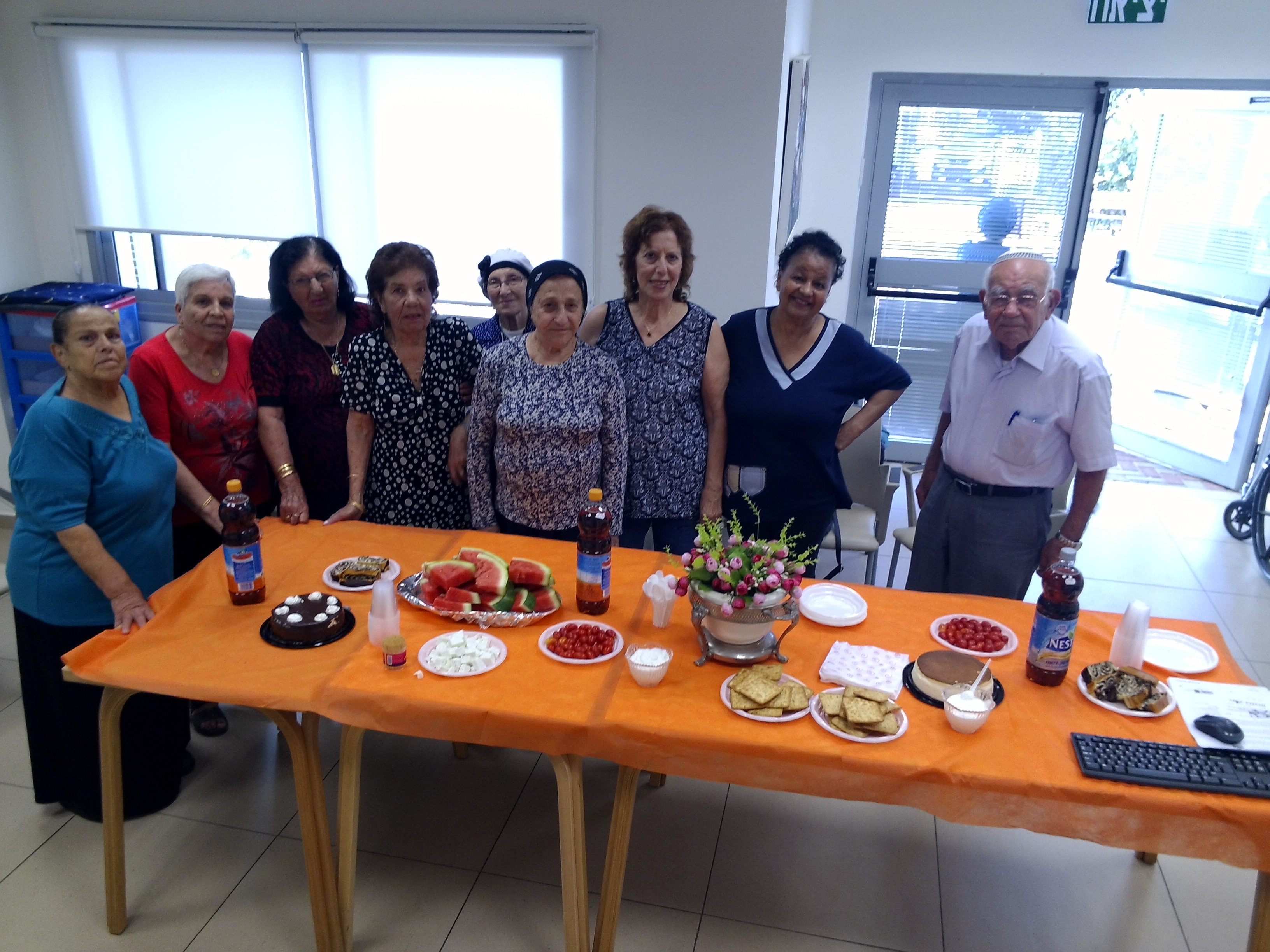 Memory Workshop at the Nashelsk Club - May 2016
For seeing the pictures, click on a picture and then on the left or the right arrow
Image from the Intergenerational theater group - Life Stories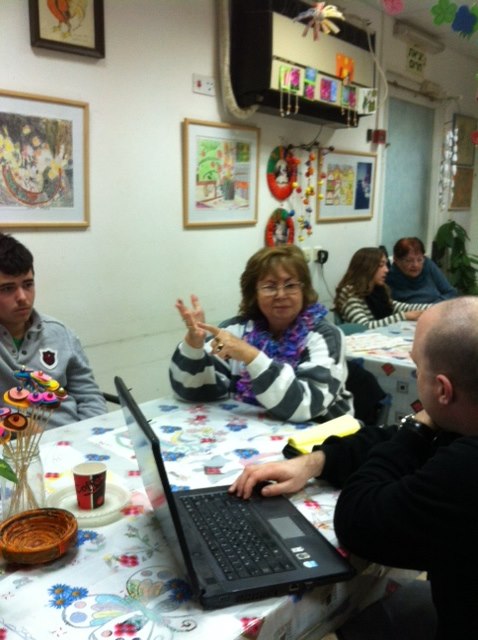 Image from the Pensioner's Club